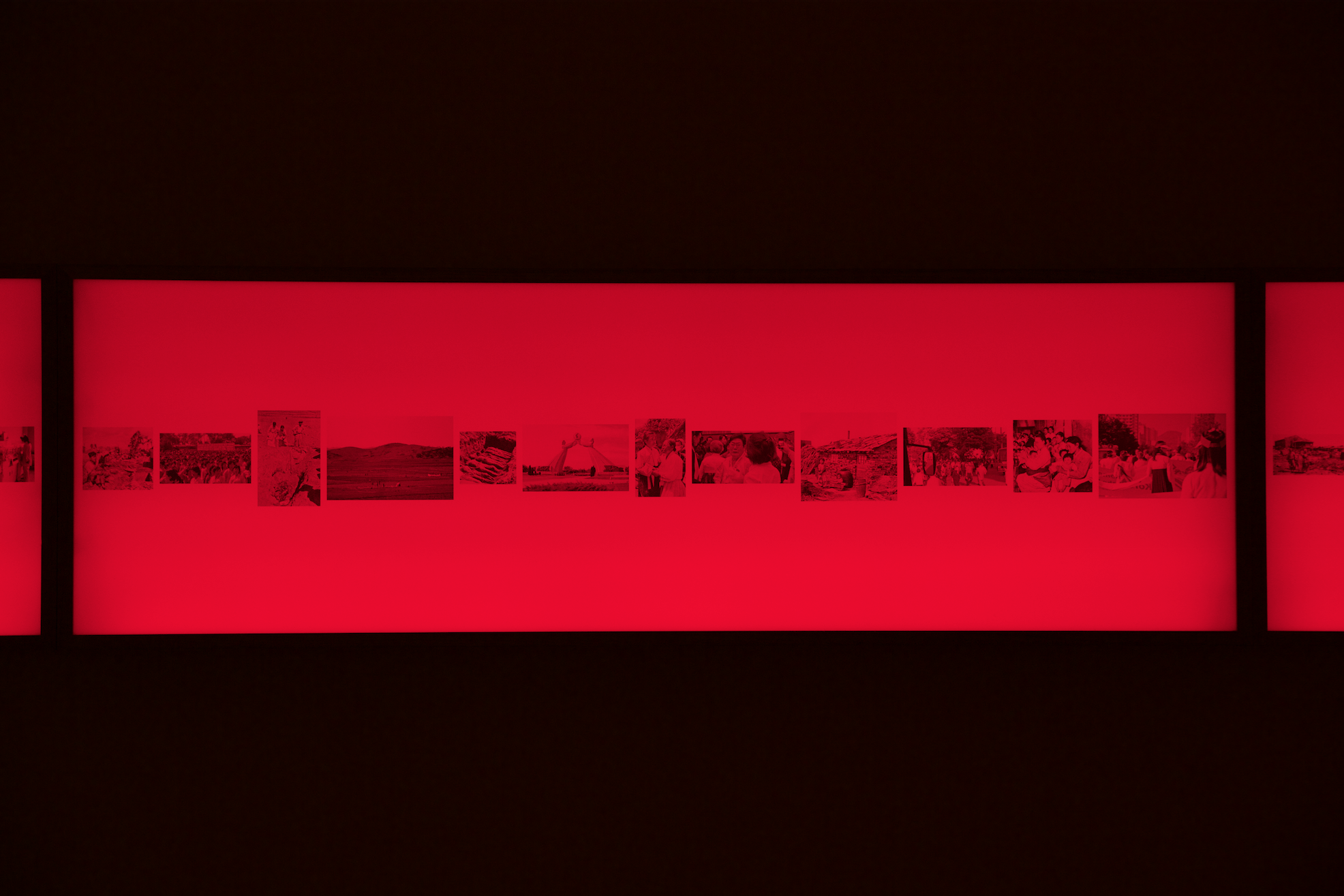 Installation view: Leeum Samsung Museum of Art, ARTSPECTRUM, Korea, 2016. Photo Byunghun Min / Halo Studio.
APERTURES | SPECTERS | RIFTS
Triptych Light Box, 2016.
Total dimension: 508,4 x 52,8 x 10 cm. Handcrafted white oak boxes, 36 black & white photographs taken in North Korea in 1951 and 2015. Printed on inkjet screen film, inserted between a transparent and a red acrylic sheet, LED lights, electrical cords.
Apertures |Specters | Rifts engages cross-border narratives by invoking unrealized aspirations for peace and international women's solidarity.
In May 1951, at the height of the Korean War, Danish journalist Kate Fleron, a leading figure in the Danish resistance movement during World War II, travelled to North Korea as part of an international delegation. The trip was organized by the Women's International Democratic Federation, one of the largest and most influential women's organizations in the post 1945 era. In North Korea, the delegation spoke to civilians and documented casualties that were otherwise underexposed in Western media. After returning to Denmark, Kate Fleron published a book titled "Fra Nord Korea (From North Korea)" chronicling her experiences accompanied by various photographs taken by the delegation.
In May 2015, Jane Jin Kaisen went to North Korea for another international delegation of women, among those were Nobel Peace laureates, human rights lawyers, feminists, peace activists, and filmmakers. After her return to Denmark, Kaisen discovered Kate Fleron's book in the Danish National Library. The intimate photographs of North Korea focusing on the lives of women and children, as well as Fleron's account of the traumas of war and Cold War bias, resonated strongly with the artists' experience despite the span of almost 70 years.
Placed inside the triptych light box behind a red acrylic sheet are 36 black and white photographs of North Korea. Half the photographs are archival images from Kate Fleron's book taken in 1951, while the other half were taken by Kaisen in 2015. At a distance, the photographs are indiscernible and merely appear as an abstract current or pulse. Approaching these images, one becomes enmeshed in the red glow emanating from the light box. This viewing experience suggests shifting modes of seeing that goes beyond the red cold war filter which still permeates the images of Korea's division today.
Acknowledgements:
The participants of Women Cross DMZ.
Guston Sondin-Kung.
Realized with support from Leeum Samsung Museum of Art and The Danish Arts Council.